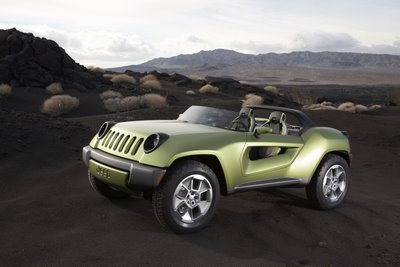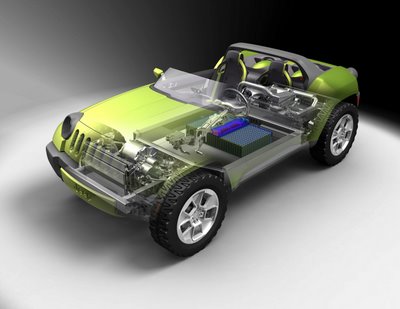 Jeep Renegade Hybrid
Chrysler LLC's third concept at this year's Detroit Show is the Jeep Renegade, a B-segment sized off-roader. The pistachio colored Jeep with the beach-buggy appearance features dual electric 200 kilowatt (268 HP) motors that propel the 4x4 system which comes complete with low range and locking differentials. Additionally, there's a 115 HP 1.5-liter, 3-cylinder BLUETEC diesel engine that works as a generator for the electric motors if the power in the lithium-ion battery pack runs out.
A B-segment Jeep concept vehicle, the Renegade is a sporty, 'minimized' two-seater ideally suited for the all-weather fun of dune-surfing or rock-crawling. 'With an electric motor powering each axle, the Jeep Renegade concept is designed for a hang on and have fun experience,' said Tony Shamenkov, Jeep Renegade concept principal exterior designer. Constructed of environmentally responsible materials, sustainability is a key theme of the Jeep Renegade concept. Renegade is targeted at customers in the 'Stylish Green' segment of the marketplace, those who are extremely environmentally oriented, appreciate high-tech and innovation, and enjoy performance combined with style in keeping with their 'green' attitude.
This is a concept car, which means that it will probably not make production but the Dodge Challenger finally made it to the production line, so who knows. As you read the article at the website, it talks about how it is being marketed to the "green crowd", I am not a "tree hugger" by choice but a naturalist and conservationist by heart... I would love to get my hands on one of these. If what they say is true, it would be a blast to drive and with the engineering of both drivetrain, interior and product to build it, this would be quite the vehicle. There appears to be no room for luggage, though. But maybe... that's the intent... hmmm.
Click on either picture to go to the Renegade site to learn more.