612-501-2012 &nbsp&nbsp&nbsp&nbsp&nbsp&nbsp&nbsp&nbsp&nbsp&nbspAsk Us About Emergency Generator Hook-Ups &nbsp&nbsp&nbsp&nbsp&nbsp&nbsp&nbsp&nbsp&nbsp&nbsp320-983-2500
---
| | | |
| --- | --- | --- |
| | The Sinking of the SS Edmund Fitzgerald | |
---
November 10, 1975, The Sinking of the SS Edmund Fitzgerald
The SS Edmund Fitzgerald (nicknamed "Mighty Fitz," "The Fitz," or "The Big Fitz") was an American Great Lakes freighter launched on June 8, 1958. Until 1971 she was the largest ship on the Great Lakes. Although she had reported having some difficulties during a gale on Lake Superior, the Fitzgerald sank suddenly on November 10, 1975 in 530 feet (160 m) of water without sending any distress signals. The site of the loss is in Canadian waters approximately 17 miles (15 nmi; 27 km) from the entrance to Whitefish Bay. All 29 hands in the crew perished, presumably by drowning. The incident is the most famous disaster in the history of Great Lakes shipping, and is the subject of Gordon Lightfoot's hit song, "The Wreck Of The Edmund Fitzgerald." To learn all the history and details of the Edmund Fitzgerald, go see the article by WikiPedia.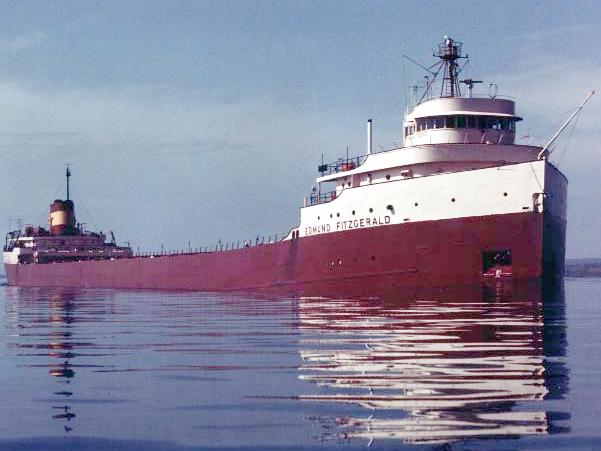 But on a lighter note, this is a must hear. Below you will find a link from an interview with an Edmund Fitzgerald expert by Tom Mischke, formerly of AM 1500 KSTP and now with City Pages. As good an interviewer as Mischke is, I rank him higher than Barbara Walters or anybody, this one was done tongue-in-cheek but he still shows what a good interviewer he is by the questions he asks.

From the files of The Madness of Mischke, here is how they describe the soundbite; 'The Wreck of the Edmund Fitzgerald. In this sound byte, Mischke describes how a classic bit from years ago came about. He was interviewing a shipwreck expert about the tragedy of the Edmund Fitzgerald, and this is just something that has to be heard to even be understood. What makes this whole thing even more bizarre, is the call that Mischke receives after replaying the old interview. An extremely irate listener is none too happy with Mischke and isn't afraid to let him know it.' Click here to hear this, it's great.
---
Home&nbsp Idea Gallery&nbsp Project Gallery&nbsp Products&nbsp FAQs&nbsp Partners&nbsp Feedback&nbsp Offers&nbsp Contact