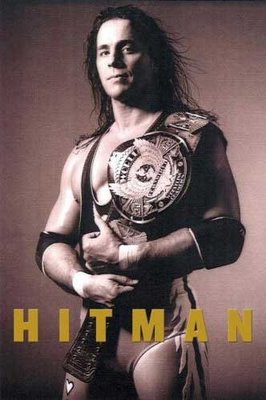 Below is the review that I wrote for the book for Barnes & Noble. I know it says anonymous but I was too afraid to leave my name for credit, go figure. The book has received a Five Star rating from all that have rated it so far. Click here to view the book at their site and order it.

Must read for wrestling fans!
by Anonymous

February 11, 2009: This autobiography takes you from the time Bret Hart was born until now. It is written as if Hart was sitting across the table from you and he was telling you the story of his life.

It is not an expose of the world of wrestling but he is open and honest about what goes on behind the scenes and in the ring. I knew that pro wrestlers have a tough road to go but didn't know it went this far. He tells of living quarters on the road, relationships between the wrestlers, dealings with promoters, family relationships, toll on the wrestlers bodies, business within pro wrestling & the different promotions, how some moves are done and the psychology of the matches, plus so much more.

I was not a Bret Hart fan before but now I am. I stopped watching wrestling about the time Hart was becoming famous with The Anvil. Just recently, I have started watching again. But after reading Hart's book, I watch the wrestling differently now. I am now watching the psychology of the matches, how the moves are being done and if it is a believable story line. My view of who the "bad" or "good" guys has also changed.

I highly recommend this book if you're a Bret Hart and wrestling fan or not. Just the study of one man's climb to the top, the business side of wrestling or the history that is presented is well worth the read!

To learn more about Bret "The Hitman" Hart, go to his website.