612-501-2012 &nbsp&nbsp&nbsp&nbsp&nbsp&nbsp&nbsp&nbsp&nbsp&nbspLet Zotz Electrical Install Special Lighting For Your Crafts That You Want Highlighted &nbsp&nbsp&nbsp&nbsp&nbsp&nbsp&nbsp&nbsp&nbsp&nbsp320-983-2500
---
| | | |
| --- | --- | --- |
| | Dragon Illusion | |
---
Dragon Illusion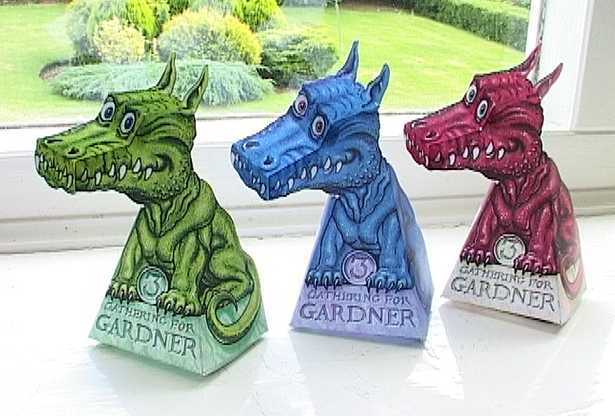 This dragon optical illusion has been one of the most visited items on the Grand Illusions web site, and millions of people have downloaded the PDF picture file and made their dragons. The dragon is reproduced by Grand Illusions with the permission of the American company Thinkfun. Look at the videos listed below to see what the illusion is. I made one of these dragon illusion models and I could not see the effect. Try this yourself and send me an e-mail to tell me what I am doing wrong, please.
You can download the GREEN DRAGON, download the RED DRAGON or download the BLUE DRAGON.
Once you have printed the dragon out (a colour printer is best since this is a colour image) then you can cut out the dragon, fold and stick it, and you will be able to see this fantastic illusion yourself. When you print the page out, you will see that the instructions for folding the dragon are included. Please follow these instructions exactly. The key thing to remember is that the dragon's head needs to be folded so that it is concave when you look at it.
Click on the red dragon to see the three dragons together. Click on the green dragon to see only it and hear the audio presentation.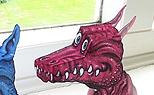 &nbsp&nbsp&nbsp&nbsp&nbsp&nbsp&nbsp&nbsp&nbsp&nbsp&nbsp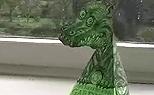 ---
Home&nbsp Idea Gallery&nbsp Project Gallery&nbsp Products&nbsp FAQs&nbsp Partners&nbsp Feedback&nbsp Offers&nbsp Contact